Factories burnt in Vietnam-China row
See on Scoop.it – It Comes Undone-Think About It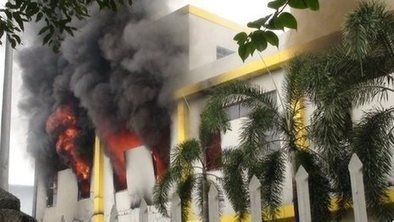 Several factories are set on fire amid anti-China protests at an industrial park in southern Vietnam, amid tensions over the South China Sea.
Eli Levine's insight:
That's one way to fight a war.
I don't think China is going to do anything about this other than to press on with the construction of their rig (which may end up being moot, if the Vietnamese are going to keep harassing it and the Chinese factories in Vietnam.
Thus we see yet another instance of how a little country is able to successfully repel a significantly larger country, if it makes its priorities good and carries out effective action.  The most effective way to disrupt an occupying country is to hit it in the coin purse.  And, I think the Vietnamese know this very well, owing to their long history of playing cat and mouse with the Chinese (with Vietnam being the mouse and China being the cat).
Not the wisest of moves that the Chinese could have done.  Better to abide by international standards and not be excessively greedy.  It's not like they want for resources, and it's not like they can't get the resources they don't have through trade, like everyone else.
Foolish leadership.
Think about it.
See on www.bbc.com