Ukraine leader vows to crush rebels
See on Scoop.it – It Comes Undone-Think About It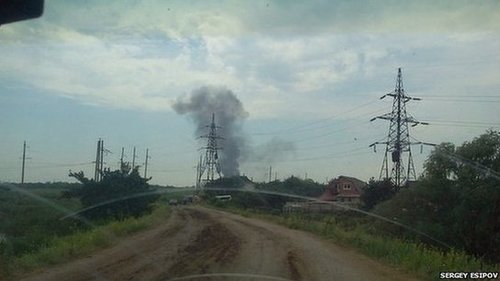 Ukraine's President-elect Petro Poroshenko vows to punish "bandits" after pro-Russian rebels shot down an army helicopter, killing 12 people.
Eli Levine's insight:
Well, there goes Ukraine into civil war.
All because the Ukrainian government in Kiev failed to recognize and accept the Russians living in Ukraine as fellow countryfolk, and to work with the separatists accordingly.
I don't think anyone wants violence in Ukraine.
However, I think that Russia is willing to fuel the violence, while ultra-nationalists from the Ukrainian side are going to be willing to exacerbate the situation with violence of their own.
A shame that the Kievan government wasn't more cognizant of what was there, how things were working and, more importantly, what people in Eastern Ukraine were feeling, thinking and saying.
I think that many of those home-grown Russian-Ukrainians were genuinely scared of ultra-nationalists (confirmed by many of the killings that the ultra-nationalists conducted in Eastern Ukraine) and what it could mean to their well being if Ukraine was to shift towards the EU.
A shame that all 3 parties couldn't have come together to work something out for mutual gain.  A shame that the US wasn't advising the Ukrainians to behave in this fashion, such that civil war could have been avoided.
Idiots.
And I don't care how clever they were at getting to where they are at present.
Total idiots.
Think about it.
See on www.bbc.com