40 maps that explain food in America
See on Scoop.it – It Comes Undone-Think About It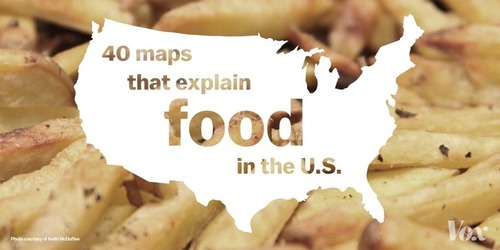 "The future of the nations will depend on the manner of how they feed themselves, wrote the French epicurean Jean Anthelme Brillat-Savarin in 1826. Almost 200 years later, how nations feed themselves has gotten a lot more complicated. That's particularly true in the US, where food insecurity coexists with an obesity crisis, where fast food is everywhere and farmer's markets are spreading, where foodies have never had more power and McDonald's has never had more locations, and where the possibility of a barbecue-based civil war is always near. So here are 40 maps, charts, and graphs that show where our food comes from and how we eat it, with some drinking thrown in for good measure."
Eli Levine's insight:
It's interesting to see that as agriculture has declined in the labor force that profits have gone up.  At the moment, we seem to be producing enough food to feed ourselves and to export to other countries (will have to fact check that).  But what does this mean for industry or service jobs that are also becoming more automated?  How will people find decently paying work if machines are doing simple, complicated and complex work?  What good is an economy if most people in a society are going to starve or be insanely bored an purposeless?  Costs may be cut.  But revenue is also going to hurt, unless people are somehow given an income they can live on and be able to support any children they might have.
Who's thinking about this?  Who's talking about this?
No one that I can tell.
Think about it.
See on www.vox.com